Weather today
Gentle Breeze, overcast clouds, moderate rain
Day: 12.0°C
Evening: 9.3°C
Night: 8.8°C
Humidity: 0%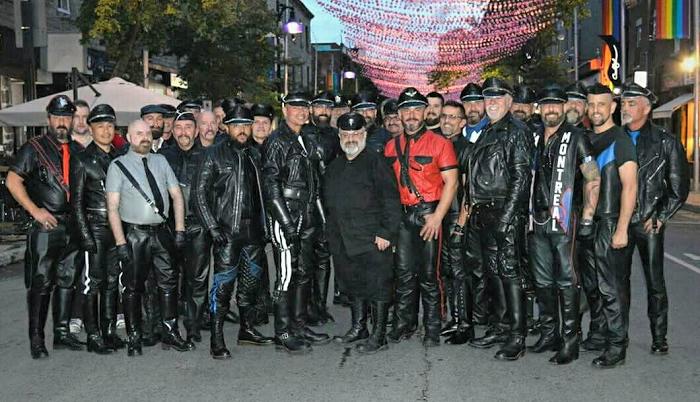 Events
8@10 BLUF MONTRÉAL
@10 BLUF MONTRÉAL Back to popular demand, the Montréal BLUF guys are inviting you to their monthly gathering, now on Friday nights, from 8 to 10 PM, always at Stud BAR, 1812 Ste- Catherine East. Come and join us for great fun and celebrate the Montréal 375th year anniversary. Taissir our newly BootBoy ... will be with us. So guys, if your boots need a boot shine... this is the time, 20 $. Information : LanglitzMontreal (3301), Master Tyrant (1632) 8@10 BLUF MONTRÉAL A la demande générale, les gars de cuir de BLUF Montréal vous invitent à leur rencontre mensuelle, maintenant les vendredis soirs, de 20 à 22 heures, toujours au Bar Le Stud, 1812 Ste-Catherine est. Joignez-vous à nous et célébrer le 375e anniversaire de Montréal. Taissir, notre nouveau BootBoy sera avec nous. Alors messieurs si vos bottes ont besoin d'un bon cirage, c'est le temps, 20 $. Informations : LanglitzMontreal (3301), Master Tyrant (1632)
Bar Stud, 1812 Ste-Catherine East, Montréal, Montreal, Canada
Weekend Fusion Montréal (Mr Leather, Mr Rubber, Puppy and Mrs. Leather)
Friday 16 June -> 18 Sunday Jun 17
Leather contest for Mr Montreal, Mr Rubber, Puppy and Mrs Montreal. Different activites organized : contest, workshops, brunch, after-party, etc. Friday 16 June: - Tribute to the 2016 titles - First part of the competition - After-Party Saturday 17 June: - Braderie, Market and Workshops during the day - Main Contest - Victory party - After-Party Sunday 18 June: Brunch of Survivors * Hours and locations will be confirmed shortly.
Different venues.
BLUF Montréal at the Plein Bois Campsite
Hi BLUF guys, Summer is at our doorstep! It's time to meet up again in order to fraternize between leathermen. Our Leather friend Luc Dallaire Bluff member 1407 is cordially inviting us to the second edition of the "Cocktail Cigar Party" at Camping Plein-Bois in Sainte-Marthe-de-Vaudreuil (near Montréal). Like last year, open bar and a snack are offered. Cocktail will be held from 2 to 5 PM. Dress code : leather, uniform, latex Bring your cigars Hope to see you soon. RSVP mandatory : LanglitzMontreal (3301) or Master Tyrant (1632) before June 10. Salut les gars de BLUF ! Enfin l'été est à nos portes ! Il est grand temps de se réunir, à nouveau, afin de fraterniser entre gars de cuir. Notre ami cuir Luc Dallaire BLUFF 1407 , nous invite à la deuxième édition du ''Cocktail Cigar Party'' au Camping Plein-Bois, à Sainte-Marthe de Vaudreuil (près de Montréal). Comme l'année dernière, bar ouvert et un goûter sont offerts. Le cocktail se déroulera de 14 h à 17 h et nous nous dirigerons, pour ceux qui le veulent, au 5 à 7 au bar du camping. Code vestimentaire : cuir, uniforme, latex Apportez vos cigares Au plaisir de vous voir bientôt. RSVP obligatoire : LanglitzMontreal (3301) ou Master Tyrant (1632) avant le 10 juin. Lieu: Prix d'entrée au Camping Plein Bois Adhésion annuelle Plein Bois ; 8$ par personne Visite d'une durée de 12 heures ; 13$ par personne
Camping Plein Bois, Ste-Marthe-de-Rigaud, Montréal, Canada
8@10 BLUF MONTRÉAL
8@10 BLUF MONTRÉAL Back to popular demand, the Montréal BLUF guys are inviting you to their monthly gathering, now on Friday nights, from 8 to 10 PM, always at Stud BAR, 1812 Ste- Catherine East. Come and join us for great fun and celebrate the Montréal 375th year anniversary. Information : LanglitzMontreal (3301), Master Tyrant (1632) 8@10 BLUF MONTRÉAL A la demande générale, les gars de cuir de BLUF Montréal vous invitent à leur rencontre mensuelle, maintenant les vendredis soirs, de 20 à 22 heures, toujours au Bar Le Stud, 1812 Ste-Catherine est. Joignez-vous à nous et célébrer le 375e anniversaire de Montréal. Informations : LanglitzMontreal (3301), Master Tyrant (1632)
Bar Stud, 1812 Ste-Catherine East, Montréal, Montreal, Canada
Fierté Montréal Pride
Thursday 10 August -> 20 Sunday Aug 17
A WORLD PREMIERE! Montréal Pride will organize the first edition of Canada Pride from August 10 to 20, 2017, as a nation-wide celebration of Canada's LGBTQ movement, reaffirming the position of Montréal and of Canada as leaders in LGBTQ human rights. Montréal Pride, the largest Pride festival in the Francophone world, will host the festive and inspiring national event to welcome Canada and the world to Montréal as it marks the 375th anniversary of the city's founding and the 150th anniversary of Canadian Confederation. Unlike Montréal Pride's annual festival, which is held over seven days, the Canada Pride program of events in 2017 will span eleven days, including two full weekends of activities. The program will include a two-day sports tournament during the first weekend of celebrations and a major national conference on LGBTTIQ2S+ human rights. UNE PREMIÈRE MONDIALE ! Fierté Montréal organisera la toute première édition de Fierté Canada, du 10 au 20 août 2017, afin de mettre de l'avant le mouvement LGBTQ canadien et réaffirmer la position de Montréal, du Québec et du Canada à titre de leaders des droits des personnes LGBTQ. En tant que plus importante Fierté de la francophonie, Fierté Montréal proposera un événement national festif qui sera l'occasion d'accueillir le Canada et le monde dans le cadre du 375e anniversaire de Montréal et du 150e anniversaire du Canada. Fierté Canada Montréal 2017 se tiendra sur onze jours, incluant deux fins de semaine complètes d'événements. Parmi les différentes activités prévues, on compte notamment un tournoi sportif de deux jours lors de la première fin de semaine ainsi qu'une grande conférence nationale portant sur les droits des personnes LGBTTIQ2S+.
Welcome to BLUF Leather Party at Fierté Montréal Pride
Bar Stud, 1812 Ste-Catherine East, Montréal, Montreal, Canada
BLUF Montréal 1st anniversary at Fierté Montréal Pride
The information will be communicated soon
Stud Bar, 1812, Ste-Catherine Est, Montréal
Montréal Fetish Weekend
Wednesday 30 August -> 04 Monday Sep 17
This year we celebrate Montreal's 375th Anniversary with a very special 6 days and nights fantasy-filled experience unlike anything else in the world. The MONTREAL FETISH WEEKEND is a true city celebration, an event where you are the star of a fabulous international fetish holiday! From fantasy-themed events to beautiful play scenes, fashion, expo, demos, workshops, dinning and an incredible fetish photo walk, all events are located in the heart of Montreal's downtown gay village and will highlight the amazing Club Unity with three floors of fetish amazement and Montreal's best and biggest private rooftop terrace. Cette année nous fêterons ensembles le 375ême anniversaire de la Ville de Montréal durant 6 jours et nuits de pur plaisir et de fantaisie! Venez faire l'expérience du grand rassemblement du WEEKEND FÉTICHE DE MONTRÉAL alors que vous serez l'étoile d'une vacance internationale! Alors que des centaines de participants nous visitent des quatre coins du monde nous vous proposons un horaire complet de soirées ultra-glamour, d'espaces dédiés à la passion des jeux de rôles et de soumission, de flamboyantes présentations de mode fétichiste, expo, ateliers, dîners, randonnées photo fétiche ainsi que de nombreuses activités en plein cœur du Village Gai.
Different venues
Montréal Black and Blue Festival
Wednesday 04 October -> 10 Tuesday Oct 17
The Black & Blue is an annual gay festival of events held in Montreal in October since 1991. The festival is organized by the Bad Boy Club Foundation of Montreal, which provides financial assistance to organizations providing direct, medical and Social groups for people living with HIV / AIDS in Montreal, as well as gay and lesbian community groups in Quebec. The festival has a good international reputation. The culmination of this festival is the rave gathering more than 10,000 people at the Palais des congrès de Montréal, previously at the Olympic Stadium. This event is part of the Gay Circuit and the world music scene, it is one of the largest of its kind in North America. Le Black & Blue est un festival d'événements bénéfices gais annuel se déroulant à Montréal en octobre depuis 1991. Le festival est organisé par la Fondation du Bad Boy Club de Montréal, qui aide financièrement des organismes prodiguant de l'aide directe, médicale et sociale aux personnes atteintes du VIH / SIDA à Montréal, de même que les groupes communautaires gais et lesbiens québécois. Le festival possède une bonne réputation internationale. Le point culminant de ce festival est le rave rassemblant plus de 10 000 personnes au Palais des congrès de Montréal, précédemment au Stade olympique. Cet événement fait partie du Circuit gai et de la scène musicale mondiale, il est l'un des plus grands de ce type de l'Amérique du Nord.
Different locations
Montreal BLUF Gathering at Black and Blue Festival
More information soon
In this city
Click to search BLUF for bars, clubs, photographers or shops in this city
Other cities
See what BLUF Local is doing in these other cities: