News from BLUF Local: Montreal
BLUF Blog: Montreal
BLUF Montreal launch photos
BLUF (Breeches and Leather Uniform Fanclub) returns to its 1997 birthplace, Montréal.
Founder, Dutch Leon Jacobs desire was to create a virtual meeting place to alleviate isolation, foster communication, and promote sharing for those in the breeches and leather uniform fetish community. BLUF.com is the result his desire
…
Published 23 Aug 2016 • Read more
BLUF Montreal Pride photos
The Montreal chapter's second event was participation in Montreal's Sunday August 14th, 2016 Pride Parade that drew 300,000 spectators. The BLUF Montreal contingent won over the crowds and was warmly embraced by the cheering onlookers all along the route.
…
Published 23 Aug 2016 • Read more
BLUF Montreal launch video
Launch video for BLUF Montreal / Video pour la lancement de BLUF Montréal
…
Published 03 Aug 2016 • Read more
Weather today
, scattered clouds, sky is clear
Day: 3.6°C
Evening: 1.6°C
Night: -4.7°C
Humidity: 0%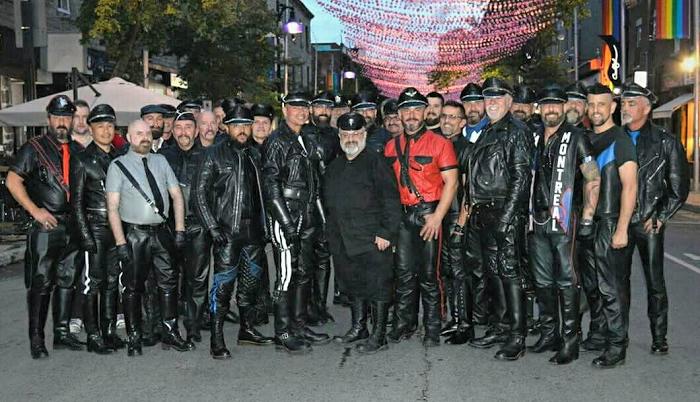 Events
BLUF Montréal at the Plein Bois Campsite - BLUF Montréal au Camping Plein Bois
Hi BLUF guys, Spring is at our doorstep! It's time to meet up again in order to fraternize between leathermen. Our Leather friend Luc Dallaire is cordially inviting us to the second edition of the "Cocktail Cigar Party" at Camping Plein-Bois in Sainte-Marthe-de-Vaudreuil (near Montréal). Like last year, open bar and a snack are offered. Cocktail will be held from 2 to 5 PM. After the cocktail, for those who want it, we are going to the Leather/Fetish and Latex Evening at the bar of the campsite, starting at 5 PM. Dress code : leather, uniform, latex Bring your cigars Hope to see you soon. For information : LanglitzMontreal (3301) or Master Tyrant (1632) Salut les gars de BLUF ! Enfin le printemps est à nos portes ! Il est grand temps de se réunir, à nouveau, afin de fraterniser entre gars de cuir. Notre ami cuir Luc Dallaire, nous invite à la deuxième édition du ''Cocktail Cigar Party'' au Camping Plein-Bois, à Sainte-Marthe de Vaudreuil (près de Montréal). Comme l'année dernière, bar ouvert et un goûter sont offerts. Le cocktail se déroulera de 14 h à 17 h et nous nous dirigerons, pour ceux qui le veulent, au 5 à 7 pour la soirée Cuir/Fétish et Latex au bar du camping. Code vestimentaire : cuir, uniforme, latex Apportez vos cigares Au plaisir de vous voir bientôt. Pour plus d'informations : LanglitzMontreal (3301) ou Master Tyrant (1632)
In this city
Click to search BLUF for bars, clubs, photographers or shops in this city
Other cities
See what BLUF Local is doing in these other cities: