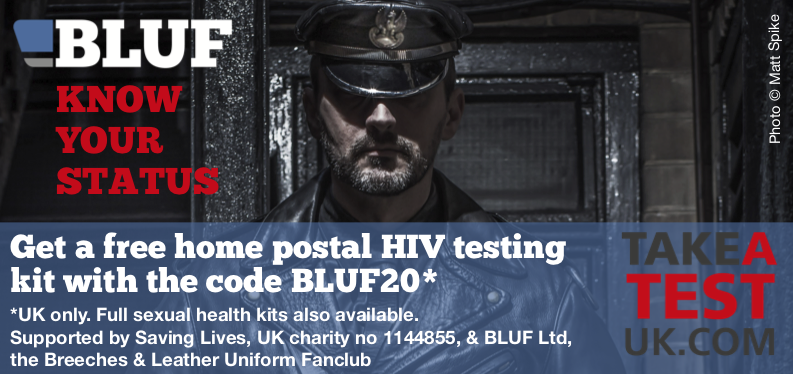 The Breeches and Leather Uniform Fanclub
Welcome to the home of BLUF, the Breeches and Leather Uniform Fan Club. BLUF is a club for men who enjoy wearing breeches and leather uniforms. Founded in 1997, there are now over 4,000 members worldwide, and many of them meet in person at BLUF events.
On the BLUF menu, you can find out more about the club. The Community menu has our calendar of events and blog, while on the Info menu you can find many useful resources, including other clubs, vendors and venues around the world.
Why join BLUF?
BLUF is one of the world's biggest communities for men into leather uniforms, with members in dozens of countries and around 100 events every year. Joining BLUF gives you access to our whole site, where you can meet other guys seriously into leather, create a profile, and become part of our community. We maintain a strict dresscode, which you can read about here.
Joining BLUF is free and open to men who meet our dresscode requirements. The site is run by volunteers, and owned by BLUF Ltd, a not-for-profit company based in the UK.
Montreal: Collaboration between BLUF Montréal and LGBT in the City
BLUF Montréal and LGBT in The City are proud to announce a collaboration between the two organizations. BLUF Montréal is now known as an Ambassador and LGTBT in the City as a reference for the gay leather community in Montréal.
What is LGBT in the City ?
A page where you are in the middle of the information. Where your voice matters ! Get the chance to be featured and have your message heard ! We are happy to show the world that Montreal is still part of the race to be the most acceptant and openly gay cities in the world .We encourage diversity and proud to support local talents and entrepreneurs in our LGBT community !
Paris: Paris Full Leather Weekend - Mars 2020
BLUF Paris organise un rendez-vous exceptionnel durant la célébration des 15 ans de RoB Paris les 27 et 28 mars 2020 !
Découvrez le programme complet ici : https://bluf.com/e/3400.
La Team BLUF Paris : Bearpaname (44), Dark_Leather (264), Bear_Lolo_Leather (548) et Pierre, aka French_leather (1302).
Montreal: BLUF Montréal «On the Road/Sur la Route».
BLUF Montréal ... «On the Road/Sur la route».
You have questions about BLUF Montréal... You want to visit us but you don't when exactly. Questions about our Gay Pride and our three events, about our monthly gatherings, about the «Leather Renaissance» in Montréal. Don't miss the chance to meet the Montréal BLUF guys at these events. BLUF Montréal... «On the Road» is for you.
Vous avez des questions sur BLUF Montréal. Vous désirez nous rendre visite mais vous ne savez quand. Des questions sur Fierté Montréal et nos trois événements cuir, sur nos rencontres mensuelles, sur la «Renaissance du cuir» à Montréal. Ne manquez pas l'occasion de rencontrer les gars du BLUF Montréal lors de ces événements. BLUF Montréal ... «Sur la route» est pour vous.
BLUF Blog: BLUF in the time of Corona
Dear member,
I wanted to write to you to keep you up to date with what's happening at BLUF during the current pandemic. Around the world, many of us are being urged - or even required - to stay at home and not go out unless for essential reasons.
For some of us, more used to going out to work every day, or socialising in bars, this can be tremendously difficult, and quite isolating. I've been trying to think of ways that BLUF can help, and if you have any suggestions, please let me know.
The BLUF Bar
You may already have discovered the group chat facility on BLUF; one of the recent actions we've taken is to create 'BLUF Bar' chat room, where members can gather to talk if they wish. Because our membership is spread around the world, people are online at different times. So, if you'd like to try and get people from your area together for a virtual meeting in the BLUF Bar, let me know what time, and I'll do my best to publicise that, so that everyone can come together in the chat room, which is available both on the website and
…
BLUF Resources
BLUF's website isn't just for our members. You'll find plenty of information available to non-members too, including our listings of leather and fetish vendors, leather venues, and local leather clubs, around the world.
The BLUF events calendar features events worldwide, organised by a wide range of clubs and other groups, and as well as BLUF topics, our blog often includes posts of general interest to the leather community.
Members of BLUF also have access to our online magazine, which includes reports from BLUF events, exclusive photo galleries, and even short stories written by other members. The member forum provides places to share tips or ask for help on a range of topics, incuding For Sale and Wanted sections, travel advice and more.
On your BLUF profile, you can even let people know if you have a guest room, or can show them round your city, and our sophisticated search tools can help you find a bed in a city, or even someone who's into the same things as you, with a playroom, who rides a bike and speaks German.
The BLUF Card
We're committed to keeping BLUF membership free, with all members getting all the functions of the site. BLUF is funded by donations and sales of BLUF merchandise. Members who donate to BLUF qualify for the BLUF card, which gives discounts at a range of vendors, including Boxer, Clone Zone, Fetish Freak, Mister B and Regulation.