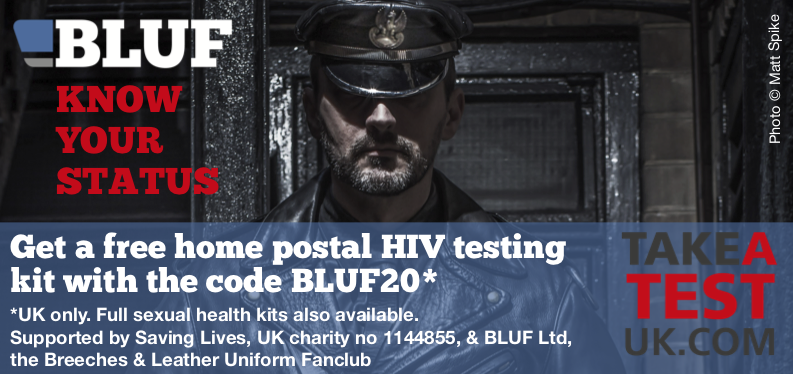 The Breeches and Leather Uniform Fanclub
Welcome to the home of BLUF, the Breeches and Leather Uniform Fan Club. BLUF is a club for men who enjoy wearing breeches and leather uniforms. Founded in 1997, there are now over 4,000 members worldwide, and many of them meet in person at BLUF events.
On the BLUF menu, you can find out more about the club. The Community menu has our calendar of events and blog, while on the Info menu you can find many useful resources, including other clubs, vendors and venues around the world.
Why join BLUF?
BLUF is one of the world's biggest communities for men into leather uniforms, with members in dozens of countries and around 100 events every year. Joining BLUF gives you access to our whole site, where you can meet other guys seriously into leather, create a profile, and become part of our community. We maintain a strict dresscode, which you can read about here.
Joining BLUF is free and open to men who meet our dresscode requirements. The site is run by volunteers, and owned by BLUF Ltd, a not-for-profit company based in the UK.
Montreal: Rencontre virtuelle de BLUF Montréal - BLUF Montréal Virtual Gathering
Une autre belle soirée de BLUF Montréal avec des membres du Mexique, du Koweit, des États-Unis, de Hong Kong, de l'Écosse et du Canada. Merci spécial à Qcleather (3364) et Cuir99 (1675). La prochaine rencontre, vendredi le 10 juillet à 20 heures. On vous y attend.
Another great BLUF Montréal gathering with members from Mexico, Kuwait, United States, Hong Kong, Scotland and Canada. Special thanks to Qcleather (3364) and Cuir99 (1675). The next gathering, Friday, July 10th at 8 p.m. Join us next time.
London: BLUF at London's virtual Pride Parade
Although London's Pride Parade couldn't take place this year, the capital has still been taken over by the festival. As part of the celebrations, the 'London Lights' advertising screen in Piccadilly Circus was taken over by Pride in London, and featured a slideshow of the groups that would have been taking part in the parade - including BLUF.
You can see our slide in the photo, or follow this link to see the whole parade - BLUF appears around 2 minutes 30 seconds.
Montreal: BLUF Montréal - Première rencontre virtuelle - First virtual gathering
Bonjour, Hello
English follows.
Hier soir se tenait la première rencontre virtuelle de BLUF Montréal. Des participants du Canada, des États-Unis, de la France, de Taiwan et d'Hong Kong, un immense succès. Une merci spécial, a QcLeather (3364) pour l'organisation logistique. La prochaine rencontre, vendredi le 12 juin, à 20 heures, heure de Montréal. Tout simplement à cliquer «Add a travel plan» dans le calendrier de BLUF pour nous joindre. On se voit le 12 juin prochain.
Last night was the first virtual gathering of BLUF Montréal. Participants from Canada, United States, France, Taiwan and Hong Kong, huge success. Special thanks to QcLeather (3364) for the logistical organization. The next gathering, Friday June 12, at 8 p.m., Montréal time. Simply click "Add a travel plan" in the BLUF calendar, to join us. See you next June 12.
LanglitzMontreal (3301)
BLUF Blog: BLUF Backstage: How we handle photos (2020)
In this backstage blog, I'm going to explain more about our current process for photo approvals. Photos, and whether or not they're accepted, is probably that thing that people query most once they're a BLUF member, and I'll admit that it is something that, from time to time, causes problems, and a lot of soul searching. This post replaces an older version, but the policy has not changed, just some of the features on the site.
We aim, as far as possible, to be consistent the with application of photo rules, and the current mechanism is designed to do that. Because it's not the only way things have been done in the last 22 years, there are anomalies, and I'll explain those later, along with answers to some of the questions people have about photos.
How to upload photos to your profile
The BLUF website now provides two types of photos. Profile photos are always shown on your profile, and will be visible to anyone who looks at it. We expect the majority of these photos to comply with the BLUF dresscode.
Private photos can be sent via messaging - see this article for details - and when you
…
BLUF Resources
BLUF's website isn't just for our members. You'll find plenty of information available to non-members too, including our listings of leather and fetish vendors, leather venues, and local leather clubs, around the world.
The BLUF events calendar features events worldwide, organised by a wide range of clubs and other groups, and as well as BLUF topics, our blog often includes posts of general interest to the leather community.
Members of BLUF also have access to our online magazine, which includes reports from BLUF events, exclusive photo galleries, and even short stories written by other members. The member forum provides places to share tips or ask for help on a range of topics, incuding For Sale and Wanted sections, travel advice and more.
On your BLUF profile, you can even let people know if you have a guest room, or can show them round your city, and our sophisticated search tools can help you find a bed in a city, or even someone who's into the same things as you, with a playroom, who rides a bike and speaks German.
The BLUF Card
We're committed to keeping BLUF membership free, with all members getting all the functions of the site. BLUF is funded by donations and sales of BLUF merchandise. Members who donate to BLUF qualify for the BLUF card, which gives discounts at a range of vendors, including Boxer, Clone Zone, Fetish Freak, Mister B and Regulation.