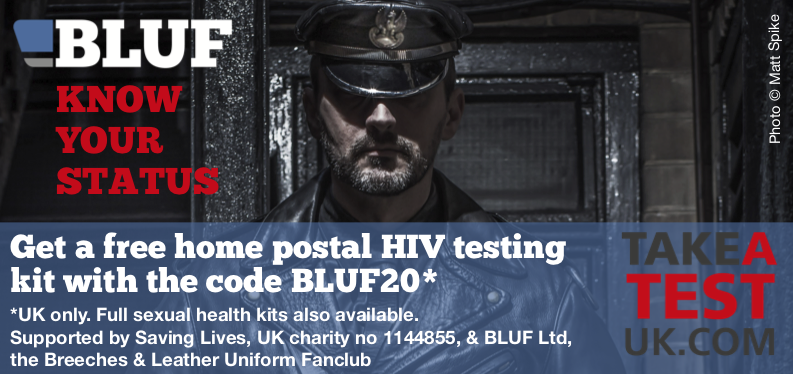 The Breeches and Leather Uniform Fanclub
Welcome to the home of BLUF, the Breeches and Leather Uniform Fan Club. BLUF is a club for men who enjoy wearing breeches and leather uniforms. Founded in 1997, there are now over 4,000 members worldwide, and many of them meet in person at BLUF events.
On the BLUF menu, you can find out more about the club. The Community menu has our calendar of events and blog, while on the Info menu you can find many useful resources, including other clubs, vendors and venues around the world.
Why join BLUF?
BLUF is one of the world's biggest communities for men into leather uniforms, with members in dozens of countries and around 100 events every year. Joining BLUF gives you access to our whole site, where you can meet other guys seriously into leather, create a profile, and become part of our community. We maintain a strict dresscode, which you can read about here.
Joining BLUF is free and open to men who meet our dresscode requirements. The site is run by volunteers, and owned by BLUF Ltd, a not-for-profit company based in the UK.
Montreal: Rencontre virtuelle de BLUF Montréal - BLUF Montréal Virtual Gathering
Une autre belle soirée de BLUF Montréal avec des membres du Mexique, du Koweit, des États-Unis, de Hong Kong, de l'Écosse et du Canada. Merci spécial à Qcleather (3364) et Cuir99 (1675). La prochaine rencontre, vendredi le 10 juillet à 20 heures. On vous y attend.
Another great BLUF Montréal gathering with members from Mexico, Kuwait, United States, Hong Kong, Scotland and Canada. Special thanks to Qcleather (3364) and Cuir99 (1675). The next gathering, Friday, July 10th at 8 p.m. Join us next time.
Paris: 2e BLUF Paris social virtuel - 29 mai 2020
Ce weekend de la Pentecôte devait être le rendez-vous annuel de Paris Fetish, avec cette épidémie du COVID-19 nous vous proposons à la place notre 2e BLUF Social virtuel pour les membres francophones 🙂 Rendez-vous le vendredi 29 mai à 20h (heure de Paris) dans vos uniformes favoris !
Pour vous inscrire, ajoutez à votre plan de voyage en tant que "participant" à cet événement (lien ci-dessous) afin de vous envoyer les infos pour rejoindre la discussion avec Discord & WebEx.
-- La Team BLUF Paris : Bearpaname (44), Dark_Leather (264), Bear_Lolo_Leather (548) et Pierre, aka French_leather (1302).
Montreal: BLUF Montréal - Rencontres virtuelles - Virtual Gatherings - 15 mai
Joignez-vous aux gars de BLUF Montréal pour leurs rencontres virtuelles. Join the BLUF Montréal guys for their virtual gatherings.
Vendredis de 20 à 22 heures/Fridays from 8 to 10 PM :
15 mai/May 15 12 juin/June 12 10 juillet/July 10 14 août/August 14
Membres de BLUF uniquement /BLUF members only Code vestimentaire de BLUF obligatoire/BLUF dress code required
Ajouter la rencontre à votre planification de voyage et nous vous enverrons les informations pour être en ligne. Add the gathering to your travel plan and we will send you the informations to get online.
BLUF Blog: Black & White: an update on BLUF cards
Since 2013, the BLUF Card has been our reward for members who donate to the club. In return for donating, members can either download a card to print at home, or display it on-screen in our app.
A range of vendors, to whom we are extremely grateful, offer discounts to BLUF members who show their card. This has allowed us to keep the club free, while rewarding those who choose to support us.
Over the years, the task of running BLUF has become more time consuming, and our costs have have continued to rise. We now have apps for iPhone and Android to keep up to date, a more complex website, and a formal legal structure, as well as a growing membership. Yet, I remain committed to allowing all members to access join, and access the site, without regard to whether or not they pay.
How do we make that possible? We have two solutions. The first is our range of custom BLUF merchandise. We have sold T shirts for many years, but in late 2019, we introduced the BLUF tie clips, and these have been very popular. We have added keyring, and there will shortly be more products
…
BLUF Resources
BLUF's website isn't just for our members. You'll find plenty of information available to non-members too, including our listings of leather and fetish vendors, leather venues, and local leather clubs, around the world.
The BLUF events calendar features events worldwide, organised by a wide range of clubs and other groups, and as well as BLUF topics, our blog often includes posts of general interest to the leather community.
Members of BLUF also have access to our online magazine, which includes reports from BLUF events, exclusive photo galleries, and even short stories written by other members. The member forum provides places to share tips or ask for help on a range of topics, incuding For Sale and Wanted sections, travel advice and more.
On your BLUF profile, you can even let people know if you have a guest room, or can show them round your city, and our sophisticated search tools can help you find a bed in a city, or even someone who's into the same things as you, with a playroom, who rides a bike and speaks German.
The BLUF Card
We're committed to keeping BLUF membership free, with all members getting all the functions of the site. BLUF is funded by donations and sales of BLUF merchandise. Members who donate to BLUF qualify for the BLUF card, which gives discounts at a range of vendors, including Boxer, Clone Zone, Fetish Freak, Mister B and Regulation.