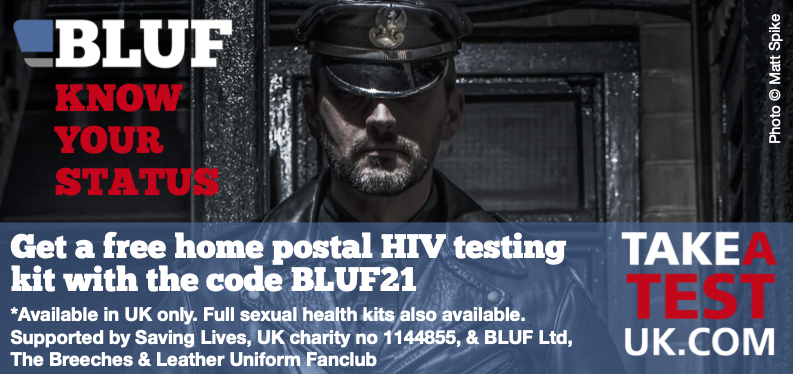 The Breeches and Leather Uniform Fanclub
Welcome to the home of BLUF, the Breeches and Leather Uniform Fan Club. BLUF is a club for men who enjoy wearing breeches and leather uniforms. Founded in 1997, there are now over 4,000 members worldwide, and many of them meet in person at BLUF events.
On the BLUF menu, you can find out more about the club. The Community menu has our calendar of events and blog, while on the Info menu you can find many useful resources, including other clubs, vendors and venues around the world.
Why join BLUF?
BLUF is one of the world's biggest communities for men into leather uniforms, with members in dozens of countries and around 100 events every year. Joining BLUF gives you access to our whole site, where you can meet other guys seriously into leather, create a profile, and become part of our community. We maintain a strict dresscode, which you can read about here.
Joining BLUF is free and open to men who meet our dresscode requirements. The site is run by volunteers, and owned by BLUF Ltd, a not-for-profit company based in the UK.
London: London... we're waiting
With the extension of the current restrictions in the UK, The Backstreet has announced that they'll not be open until at least July 19th, as expected. We're keeping in touch with them, and we hope to be able to announce some dates for BLUF at The Backstreet later this summer.
Amsterdam: BLUF Amsterdam autumn & winter agenda 2021
BLUF Amsterdam & winter / autumn & winter agenda 2021. Hier vindt je de BLUF Amsterdam events die tot en met het einde van 2021 worden gehouden. De agenda voor 2022 is in de maak en volgt binnenkort. Here you find the BLUF Amsterdam event till the end of 2021. The agenda for 2022 will be announced soon.
London: Register now for the London Pride Parade
UPDATED 6th August: London Pride has again been cancelled for this year. Neither the Parade nor other parts of Pride will be going ahead.
If you're going to be in London on 11th September, don't forget that it's London Pride! BLUF is once again registered as a walking group for the parade, and we have been allocated 50 wristbands. If you've like to join us, please add the event to your Travel Plans. We'll open up requests to non-members in a few weeks.
More info: Nigel, aka SubDirectory (3) or see BLUF in the London Pride Parade
BLUF Blog: A small change to the language in our dresscode
Following feedback from a couple of people, a small change has been made to the description of the BLUF dresscode, though the code itself remains the same.
For many years, we have listed things that are explicitly not included the dresscode, and for a number of years, part of that description said "Skinhead gear, cross-dressing, rubber gear, denim Great if you like these, but they're not part of the BLUF dresscode either."
The same phrase was used, in translation, for our other three principal languages.
This year, a couple of people have expressed concern that this language was an attempt to exclude trans people from membership of BLUF. That has never been the intention, and we have made clear on numerous occassions that BLUF welcomes trans men as members. Personally, I think in the context, it is quite clear that the use of the phrase "cross-dressing" was not intended to be interpreted that way.
Nevertheless, language and sensitivities change, and so that list of exclusions has been reworded. The text now says "Skinhead gear, workgear, sports, rubber, denim and other fetishes Great if you like these, but they're not part of the BLUF dresscode either." with translated versions
…
BLUF Resources
BLUF's website isn't just for our members. You'll find plenty of information available to non-members too, including our listings of leather and fetish vendors, leather venues, and local leather clubs, around the world.
The BLUF events calendar features events worldwide, organised by a wide range of clubs and other groups, and as well as BLUF topics, our blog often includes posts of general interest to the leather community.
Members of BLUF also have access to our online magazine, which includes reports from BLUF events, exclusive photo galleries, and even short stories written by other members. The member forum provides places to share tips or ask for help on a range of topics, incuding For Sale and Wanted sections, travel advice and more.
On your BLUF profile, you can even let people know if you have a guest room, or can show them round your city, and our sophisticated search tools can help you find a bed in a city, or even someone who's into the same things as you, with a playroom, who rides a bike and speaks German.
The BLUF Card
We're committed to keeping BLUF membership free, with all members getting all the functions of the site. BLUF is funded by donations and sales of BLUF merchandise. Members who donate to BLUF qualify for the BLUF card, which gives discounts at a range of vendors, including Boxer, Clone Zone, Fetish Freak, Mister B and Regulation.