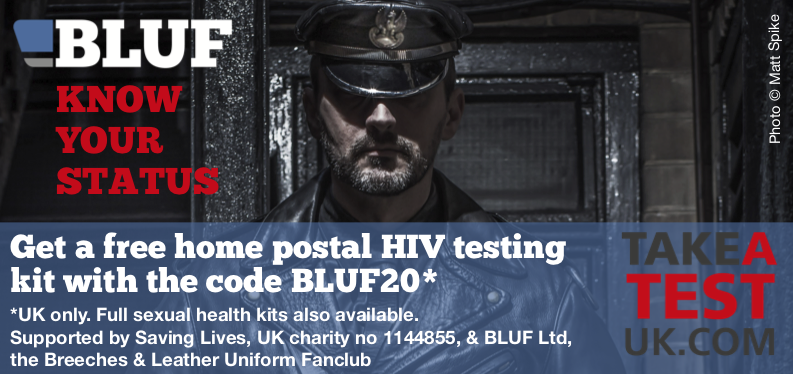 The Breeches and Leather Uniform Fanclub
Welcome to the home of BLUF, the Breeches and Leather Uniform Fan Club. BLUF is a club for men who enjoy wearing breeches and leather uniforms. Founded in 1997, there are now over 4,000 members worldwide, and many of them meet in person at BLUF events.
On the BLUF menu, you can find out more about the club. The Community menu has our calendar of events and blog, while on the Info menu you can find many useful resources, including other clubs, vendors and venues around the world.
Why join BLUF?
BLUF is one of the world's biggest communities for men into leather uniforms, with members in dozens of countries and around 100 events every year. Joining BLUF gives you access to our whole site, where you can meet other guys seriously into leather, create a profile, and become part of our community. We maintain a strict dresscode, which you can read about here.
Joining BLUF is free and open to men who meet our dresscode requirements. The site is run by volunteers, and owned by BLUF Ltd, a not-for-profit company based in the UK.
Montreal: Montréal Pride - Virtual Community Day - Interview with BLUF Montréal.
Fierté Montréal - Journée communautaire virtuelle - Entrevue de BLUF Montréal Montréal Pride - Virtual Community Day - Interview with BLUF Montréal. La journée communautaire, présentée par TD, est de retour cette année avec une édition virtuelle plus accessible que jamais! Vous aurez la chance d'en apprendre davantage sur les organismes communautaires montréalais à travers des vidéos et témoignages. https://fiertemtl.com/project/breeches-leather-uniform-fanclub-bluf-montreal/
---
Community Day, presented by TD, is back this year with a virtual edition more accessible than ever! You will have the chance to learn more about Montreal community organizations through videos and testimonials. https://fiertemtl.com/project/breeches-leather-uniform-fanclub-bluf-montreal/
Paris: 3e BLUF Paris social virtuel [Edition PRIDE] - 26 juin 2020
Ce 3e rendez-vous de notre BLUF Social virtuel, pour les membres francophones, correspond à la veille de la Marche des Fiertés à Paris 🏳️‍🌈 Cette année en 2020 avec la situation sanitaire (COVID-19), la Marche des Fiertés est reportée au 7 novembre. Ce qui ne va pas nous empêcher de la fêter virtuellement le vendredi 26 juin à 20h (heure de Paris) dans vos uniformes favoris !
Pour vous inscrire, ajoutez à votre plan de voyage en tant que "participant" à cet événement (lien ci-dessous) afin de vous envoyer les infos pour rejoindre la discussion avec Discord & WebEx.
-- La Team BLUF Paris : Bearpaname (44), Dark_Leather (264), Bear_Lolo_Leather (548) et Pierre, aka French_leather (1302).
London: BLUF at London's virtual Pride Parade
Although London's Pride Parade couldn't take place this year, the capital has still been taken over by the festival. As part of the celebrations, the 'London Lights' advertising screen in Piccadilly Circus was taken over by Pride in London, and featured a slideshow of the groups that would have been taking part in the parade - including BLUF.
You can see our slide in the photo, or follow this link to see the whole parade - BLUF appears around 2 minutes 30 seconds.
BLUF Blog: Introducing the Greek Leather Community
From the UK to Italy, from Belgium to Spain, from Finland to France and beyond, several leather groups, communities and networks have already been established, many of them with a long history, and the launch of a similar group for leathermen from Greece and Cyprus has been long overdue.
The Greek Leather Community (GLC) was recently launched with the aim of filling this gap. With 35 new members on its Facebook group within its first couple of days, plus 10 more who do not use that social network, we are now seeking to reach out and invite more men with a passion for leather who live in Greece, Cyprus or abroad.
A group for Greek men who own or are serious about purchasing their own leather gear. Please contact Aris (Aris, aka tallbootplay (2661), aris.leath@gmail.com), Marios (LeathermanGR (4040), marios_kanab@yahoo.gr) or Nikos (Nikolas (3678) NikolasPetrou1277@gmail.com ).
We'd be most grateful if fellow BLUF members - and anyone else interested - would spread the word around even further.
…
BLUF Resources
BLUF's website isn't just for our members. You'll find plenty of information available to non-members too, including our listings of leather and fetish vendors, leather venues, and local leather clubs, around the world.
The BLUF events calendar features events worldwide, organised by a wide range of clubs and other groups, and as well as BLUF topics, our blog often includes posts of general interest to the leather community.
Members of BLUF also have access to our online magazine, which includes reports from BLUF events, exclusive photo galleries, and even short stories written by other members. The member forum provides places to share tips or ask for help on a range of topics, incuding For Sale and Wanted sections, travel advice and more.
On your BLUF profile, you can even let people know if you have a guest room, or can show them round your city, and our sophisticated search tools can help you find a bed in a city, or even someone who's into the same things as you, with a playroom, who rides a bike and speaks German.
The BLUF Card
We're committed to keeping BLUF membership free, with all members getting all the functions of the site. BLUF is funded by donations and sales of BLUF merchandise. Members who donate to BLUF qualify for the BLUF card, which gives discounts at a range of vendors, including Boxer, Clone Zone, Fetish Freak, Mister B and Regulation.