Amsterdam
Amsterdam has for many years been one of the principal cities for BLUF events in Europe, and it's where many of BLUF's major milestones have been celebrated, including our 6th and 15th birthdays, the launch of the current BLUF site, and more. Parties are held regularly, including during Fetish Pride and Leather Pride. Current organisers are Joffry, aka wescobootcop (2252) and Ton, Peter, Marc, Willem.
BLUF Amsterdam AGENDA 2017
Mannen, hier de nieuwe BLUF Amsterdam 2017 Agenda ! Hi guys, the new BLUF Amsterdam Agenda 2017 is available!
More
Bristol
BLUF in Bristol has been very successful in the last few years, starting from a social organised alongside the established GEAR fetish night, and growing to host regular BLUF events at The Den. Some of the BLUF Bristol team are also heavily involved with LeatherWest, a community group aiming to promote leather in the west of England and Wales, through events such as UNION. Members can get more information from BristolUniform (87), Oswin #12 and Black Arrow (3204), or click Join to stay in touch.
More
Chicago
Information about events for BLUF men in the Chicago area, from Michael, aka chgogearman (307), elcuero (1864) and NMX90 (23). Regular meetings are held at Touche, once a month, along with events in association with other groups in the Chicago area. BLUF Chicago has its own page on Facebook and a web site.
More
DC
The Breeches and Leather Uniform Fanclub of DC is brought to you by DC Leather Pride, a non-profit organization that organizes events throughout the year to bring the leather community of the nation's capital together. BLUF:DC events will occur quarterly. DC Leather Pride also organize happy hour invasions and other events. DC Leather Pride recently won with their entry in the annual Scarlet's Bake Sale. For more info, contact Miguel, aka Miguel DC (3352)
More
London
Information about London specific events, from Nigel, aka LondonSubNigel (3) and Master Thomas (33). Most BLUF London events take place at The Backstreet in Mile End, but many members also regularly attend the London Leather Social and meetings of London Leathermen. We also organise a presence at the London Pride Parade.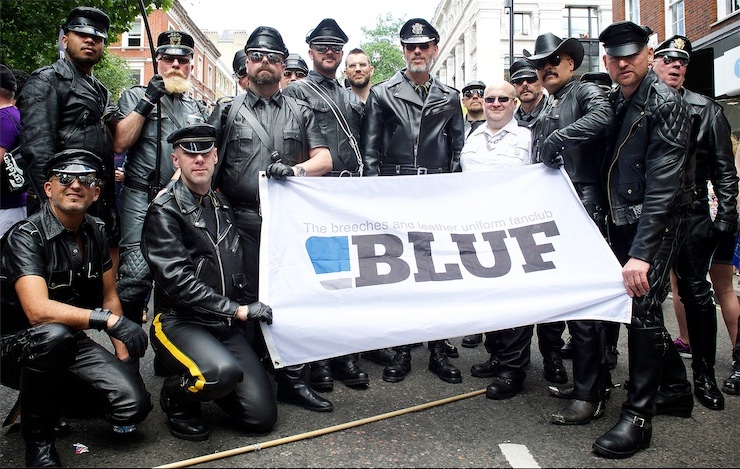 BLUF at Pride 2015
Fighting for The Backstreet
Last spring, we wrote about the threat of redevelopment facing The Backstreet, London's only leather bar, together with information about how to oppose the application.
Nothing much has happened for a while, and so far the application hasn't even come up before the Planning Committee. However, at least some of those who objected have received letters, indicating that some changes have been made to the application. One of the chief objections to the scheme is the height - at fifteen stories, it will loom over the junction, and the revisions don't really make any attempt to address that, though they may make the building slightly less ugly.
You can view the application online at the Tower Hamlets Website and I strongly recommend reading the item COVERING LETTER DATED: 22.12.16
As well as setting out the changes, it also addresses what I presume have been complaints raised on the basis of the importance of The Backstreet to the gay community. In doing so, it attempts to suggest that it probably isn't something with a real social purpose, and that even if it was, there are other LGBT venues in Tower Hamlets that people could go to. This, clearly, is an argument that's based on the idea that one gay venue is just like another. There's even a suggestion that because some non-gay venues sometimes hold LGBT nights, there's no problem at all.
In our previous article on this, we suggested that objecting on the grounds of the awfulness of the building, the height, and other planning factors was the most important thing to do. It very likely still is - however, since the developer has tried to justify a move that would lead to the closure of the Backstreet, and in doing so has shown how little they understand it, it is probably now appropriate for people to rebut those glib "all LGBT places are the same" arguments, if they do respond.
It's not clear from the letter if responses are welcome only from those who responded the first time. Regardless, the deadline for doing so is now the 18th of January 2017.
More
Madrid
Nueva creación de BLUF Madrid, aunque podéis informaros de otros eventos BLUF en el resto de España. La mayoría de los eventos de BLUF Madrid, se realizan en el club At Substation (C/Monserrat 30). Hemos empezado nuestro camino, esperemos que con la ayuda de todos, podamos crecer.

Aprovecharemos también que 2017 es el año de la Euro & World Pride Madrid, para estar presentes. Todos sois bienvenidos, cualquier sugerencia o información, Luis, aka alterCUERO (255)

New BLUF Local Madrid, but you can get some info about other BLUF events in the rest of Spain. Most BLUF Madrid events are held in the club At Substation (C / Monserrat 30). We have started our path, hopefully with the help of all, we can grow.

We will also organize our presence at the Euro & World Pride Madrid, so.... All are welcome.
Any suggestion or information, Luis, aka alterCUERO (255)
www.facebook.com/groups/BLUFSPAIN/
More
Manchester
BLUF Manchester events are organised in association with Manchester Leathermen and take place in the Manchester gay village, centred around Canal Street. Manchester Leathermen also organise a number of other leather orientated events. Information from Dave, aka 30holedms (1108) and Nick (608).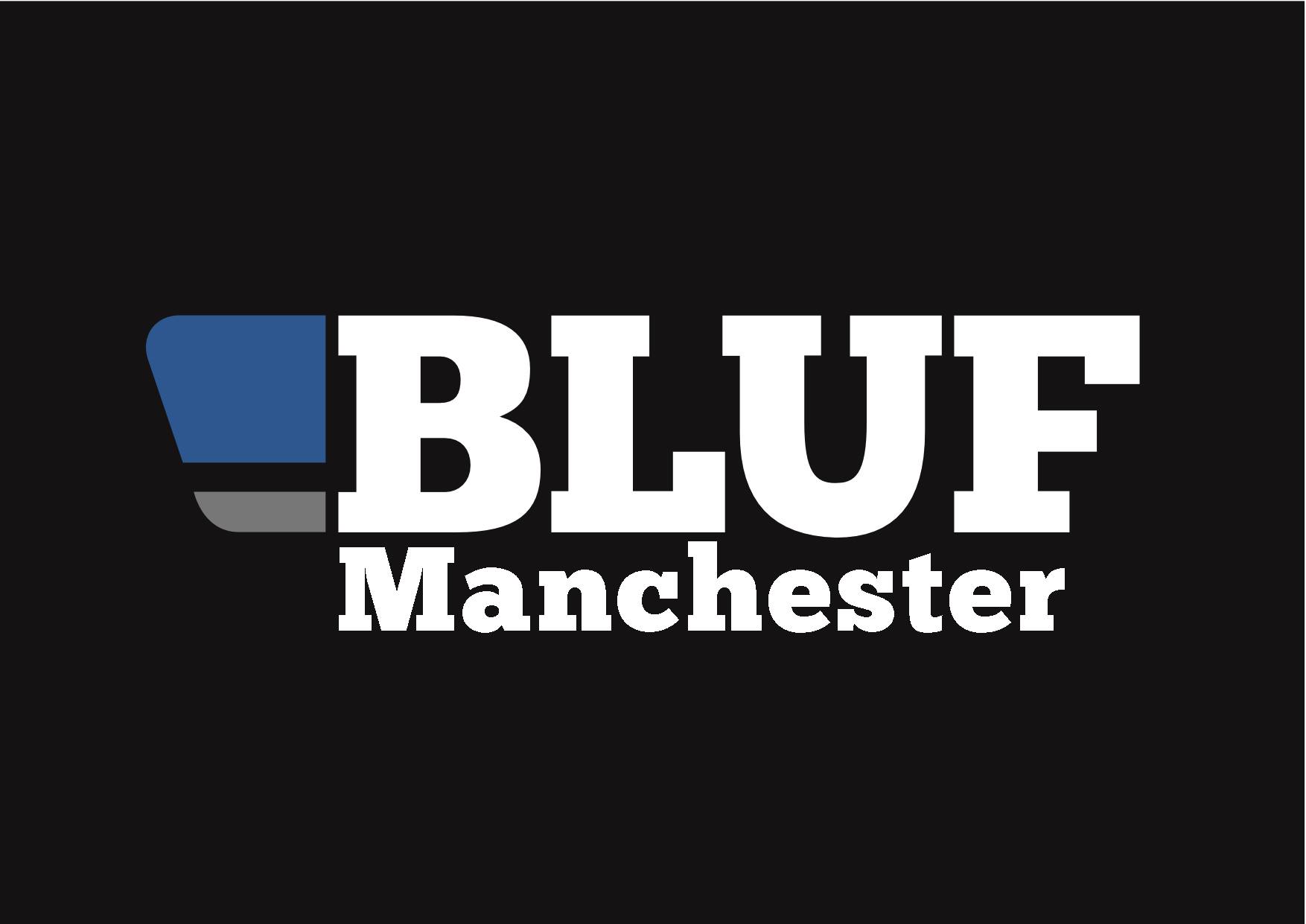 BLUF Manchester Returns
Welcome to the new BLUF Manchester local page. We are restarting the BLUF events in Manchester in association with Manchester Leathermen. The first event will be held at Company Bar on the 18th March (See the events section for full details). We're going to be holding more events throughout 2017 (including during the Manchester Leather weekend 6th-8th Oct 2017) so keep watching for more details as things develop.
If you have any questions of queries please contact either of the BLUF Manchester team Dave, aka 30holedms (1108) or Nick (608).
More
Montreal
Welcome to BLUF Montréal

BLUF originated in 1997 out of Montréal as an internet based organization. In recognition of its birthplace, a group of leather men are launching a Montréal Chapter in August 2016. The aim of the Montreal Chapter is to strengthen and grow the local leather scene via the organization of regular meetings and events for BLUF members and the leather community at large in a spirit of cooperation and friendship.

Members can get more information from LanglitzMontreal (3301) or Leather Brawny Bear (1632) or click Join to stay in touch.

Bienvenue à  BLUF Montréal

BLUF a commencé comme club sur internet en 1997 depuis Montréal. C'est dans le respect de la reconnaissance de l'origine, que plusieurs gars de cuir lancent en août 2016 BLUF Montréal. Le but du chapitre BLUF de Montréal est de valoriser la scene de cuir en organisant réguliérement des rencontres ou événements entre eux dans un esprit de collaboration et d'amitié.

Les membres peuvent obtenir de l'information en communiquant avec LanglitzMontreal (3301) ou Leather Brawny Bear (1632) ou en cliquant "Joindre" pour rester en contact.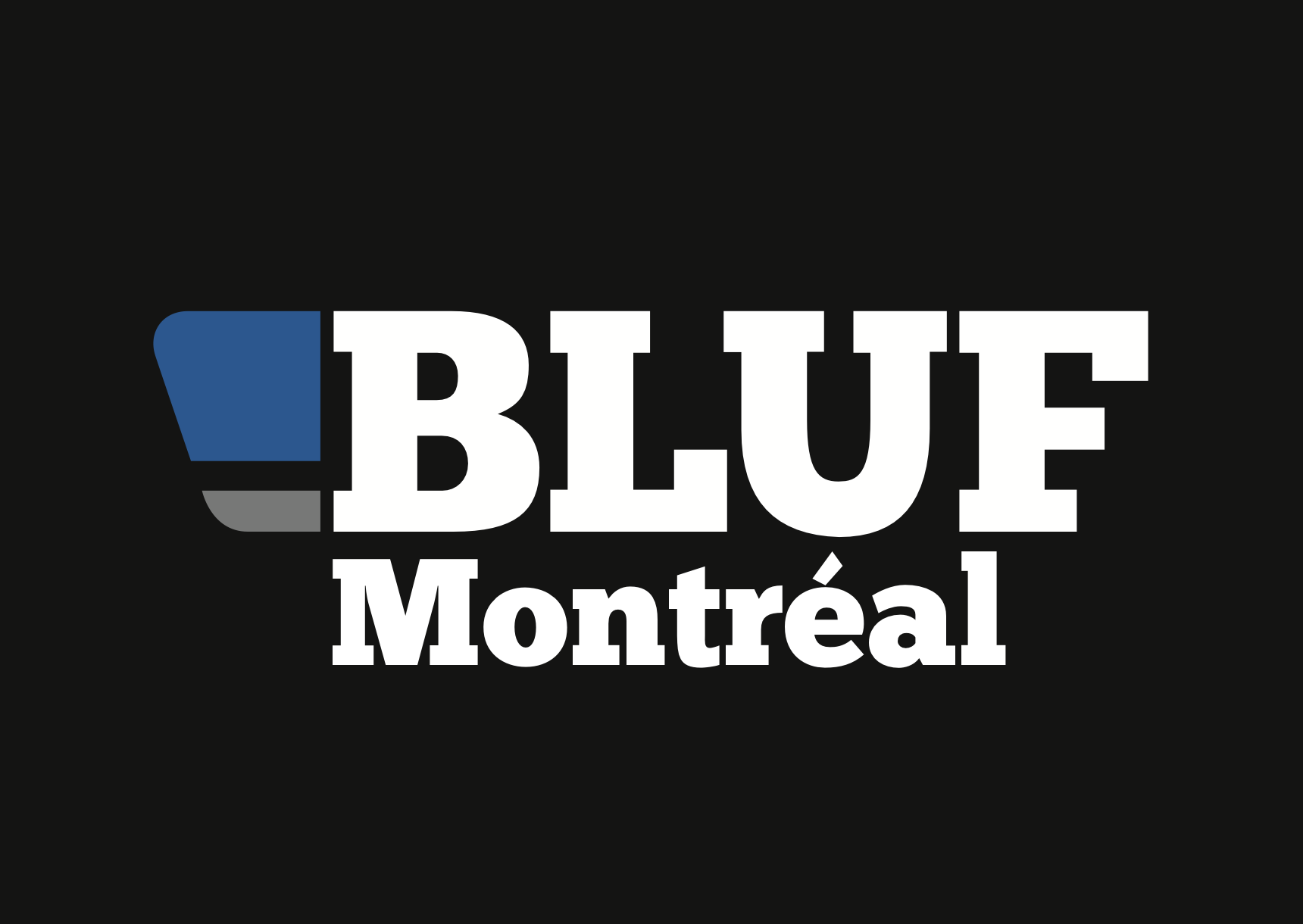 More
Munich
Information about Munich specific events, from Polarwolf (810). Most BLUF Munich events take place at Underground - hosted by the leather and fetish club MLC. BLUF Munich has its ownpage on Facebook.
We also are presence at the Munich Pride Parade within the MLC.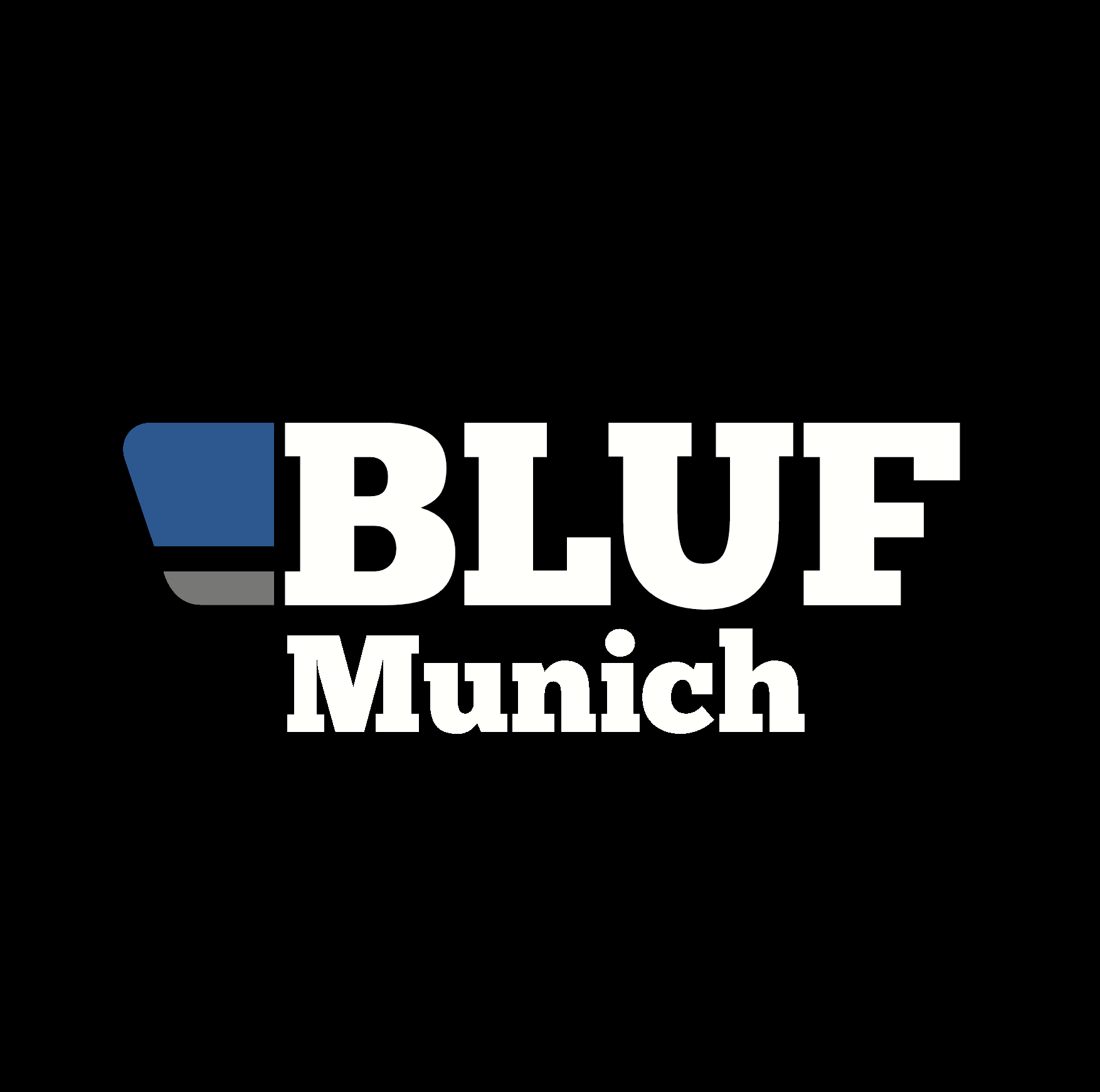 More
New York
Although BLUF doesn't have regular events in New York, we're proud to support the efforts of those working to revive the leather scene in the city, and in particular the Leather Draft Friday events organised by Buddy (2138), which take place at the the Eagle on the third Friday of the month, where we have our first BLUF NYC Social in November 2015.

And if you're interested in more official BLUF events, please contact Antton Harri (2723) or Buddy (2138) for more information.

Non-members of BLUF can click the Register button to sign up for email reminders about events.
"In Search of the Eagle"
http://thethrust.net/in-search-of-the-eagle-gay-bar/
A URL I found on the EagleNYC FaceBook site. Short and informative. What I like most about it is the overlap of one of our (EagleNYC) most recent "Leather Draft Friday" graphics (on the right side).
More
NRW
In Nordrhein- Westfalen mit seinen zahlreichen Großstädten leben ca. 200 BLUF Mitglieder. Schwerpunkte sind Köln und das Ruhrgebiet.
BLUF Events gibt es regelmässig im Essener Drexx Club (organisiert von Klaus, aka SmartLeather (212)) und in Köln, Station2be, (von cgn-leather (183)). Weitere Aktivitäten, auch in anderen Städten, sind jederzeit willkommen.

NRW (North Rhine- Westfalia) is the most densely populated urban area in Germany, including cities like Cologne, Essen, Düsseldorf, Dortmund, and only a short drive from cities like Amsterdam, Brussels or Antwerp. Around 200 BLUF members are living here. BLUF events are held regularly in Essen, drexx club (organized by Klaus, aka SmartLeather (212)) and Cologne, Station2be (by cgn-leather (183)). Other activities are always welcome.
Paris
Suite à  l'initiative de Bearpaname (44), Copboots (1915) et Dark_Leather (264), la communauté française BLUF se donne rendez-vous à  Paris. En 2016, il est prévu de proposer trois temps forts en Mars, Mai et Octobre. Habituellement les apéritifs ont lieu å`  La Mine, les soirées au Mensch et les repas au Gai Moulin.
Tout membre souhaitant prendre part å`  l'animation de la scéne BLUF française est le bienvenu ;-)

Further to the initiative of Bearpaname (44), Copboots (1915) and Dark_Leather (264), the French BLUF community makes an appointment in Paris. In 2016, it's planned to propose three highlights in Mars, May and October. Usually, aperitifs take place in La Mine, BLUF parties in Mensch and Dinners in Gai Moulin. Any member wishing to take part in the animation of the French BLUF scene is welcome ;-)
Weekend BLUF Paris - Printemps 2017
Le prochain week-end BLUF Paris aura lieu du 10 au 12 Mars 2017 !
Voici le programme :
♦ Diner : Vendredi 10 Mars à 21h30 - Restaurant Gai Moulin
♦ Apéritif & Bootblacking : Samedi 11 Mars à 19h - La Mine
♦ Soirée : Samedi 11 Mars à 23h00 - Mensch
♦ BLUF Social : Dimanche 12 Mars à 19h - La Mine
>> Tous les détails sont à retrouver ici : https://bluf.com/e/1730
--
La Team BLUF Paris : Bearpaname (44), Copboots (1915) et Dark_Leather (264).

More
San Francisco
BLUF events in San Francisco are organised by BLUFsf (63) and Larry Kenney aka HotBootsSF (26), and include an annual dinner before Dore Alley, usually one of the busiest events of the year, plus some events in association with other groups, and bar nights.
SoCal
In Southern California, BLUF is most active in Los Angeles, where LEATHERGEARED (190) hosts a monthly gathering at The Eagle on the second Friday of every month. Other events take place in San Diego and Palm Springs, particularly during and around the Desert Leather Pride event.