Weather today
Light breeze, scattered clouds, scattered clouds
Day: 25.3°C
Evening: 22.7°C
Night: 17.5°C
Humidity: 40%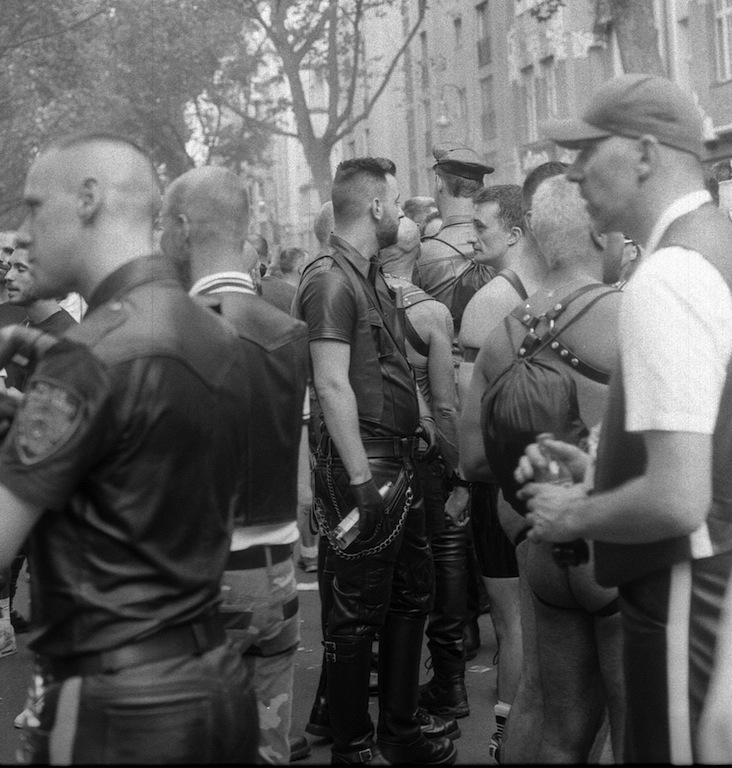 Folsom Europe - a great place to catch up with BLUF members
Events
BLACKWEEKEND VIII Berlin
Friday 02 August -> 05 Monday Aug 19
Its **BLACKWEEKEND** in Berlin again! Join us on the first weekend of the month for fully geared gatherings, entertainment and socials Friday **BERLINCIGARMEN** Berlins only Gay Cigar Lounge **To find out more go https://bit.ly/2GUQ20G** Saturday **Store Special** Saturday **TheLeatherDinner** **Reserve your seat here https://bit.ly/2VpPkvE** Saturday **BLUF Night** Sunday **BLACKWEEKEND BRUNCH** **Reserve your seat here https://bit.ly/2BXYzvS** Sunday LEATHERSOCIAL Berlin ***Be out - Be Proud*** More info: GermanLTHRcop (420) or steelcollar (69) http://male.space/en/project/black-weekend/
BERLINCIGARMEN
Biggest monthly **GAY CIGAR SOCIAL** in Europe! BLUF Members are very welcome, no dresscode **Cigars on sale at location** More info https://male.space/en/project/berlincigarmen/
Pussycat Bar Kalckreuthstr 7 10777 Berlin
The Leather Dinner
Join our Fetish Leather Dinner during **BLACKWEEKEND** in Berlin every first Weekend of the month
BLUF Berlin Night
**BLUF Berlin NIGHT** Berlins regular BREECHES, LEATHER and UNIFORM Night - Strict Dresscode
Mutschmann's, Martin-Luther-Strasse 19, Berlin, Germany
BLACKWEEKEND BRUNCH
Now you can also wear your Leather on Sunday Morning!! Join us for a delicious sexy Brunch during **BLACKWEEKEND**
Black Pug Motzstraße 28 10777 Berlin
Folsom Europe
Wednesday 11 September -> 15 Sunday Sep 19
Europe's largest fetish event: save the date. You will find a variety of clubs, merchants, bars and switchboards and performances in the area between Martin-Luther-Straße and Ansbacher Straße. On Sunday we will once again offer you our chill out area where you can relax after last night's hard work. Sit down and have a chat with some old and maybe some new friends. But don't forget to enjoy the days before! Beginning on Monday before Folsom there are a lot of meetings and partys where you can meet and talk or meet and have sex. Folsom Europe is Europe's biggest Fetish Event with more than 20.000 fetish lovers. More details to come.
Various venues, Berlin, Germany
Classic Meets Fetish
CLASSIC MEETS FETISH is a uniquely sexy experience for all lovers of classical music and fetish clothing. Professional, qualified and internationally distinguished musicians will not only perform a variety of classical 'hits', but do this in fetish outfits for a fetish audience. The 30-minute intermission gives the audience plenty of time to mix and mingle, and maybe make some new contacts in time for the Folsom Weekend.
Zwölf-Apostelkirche, An der Apostelkirche 1, 10783 Berlin, Germany
II Ibero-American Meeting Folsom Berlin
The second edition of the Ibero-American meeting during Folsom Europe, at Pussycat. Hosts: Gear Club Portugal, Leathermen Argentina, LFSpain... ¿Quieres practicar tu español, un poquito?
Pussycat, Kalckreuthstraße 7, Berlin, Germany
BERLINCIGARMEN @ Folsom Europe
Thursday 12 September -> 15 Sunday Sep 19
Biggest monthly **GAY CIGAR SOCIAL** in Europe! Previously FUGGERCIGARLOUNGE. BLUF Members are very welcome, no dresscode **Cigars on sale at location** More info https://male.space/en/project/berlincigarmen/
Pussycat, Kalckreuthstraße 7, Berlin, Germany
Testosterone - LEATHER/DILF Party
Gentlemen, Berliners and Berlin visitors during **FOLSOMEUROPE**, join us for our next Edition of our LEATHER/DILF/Daddy Dance Party **TESTOSTERONE** on September 13. * Main Dancefloor with 3 DJs: 1. Serge P (Berlin/San Francisco) 2. A.Disco (Berlin) 3. Chris LeGrand (Munich/Luxemburg/Cologne) * BERLINCIGARMEN Cigararea * Darkroom * Big outdoor Area * **BUTCHEREI LINDINGER** Shuttle service to location (limited seats, only for party ticket holders) Old school DILF crowd, Mature Men 40+ and Admirers with Leather Daddies, Muscle Bears, Furry Workmen and lots of TESTOSTERONE ... **Dresscode Tom of Finland** (LEATHER JEANS BOOTS) A part of the proceeds go to the "TOM OF FINLAND FOUNDATION" Tickets available on http://male.space/project/testosterone/
Gretchen Club
BERLINCIGARMEN
Biggest monthly **GAY CIGAR SOCIAL** in Europe! BLUF Members are very welcome, no dresscode **Cigars on sale at location** More info https://male.space/en/project/berlincigarmen/
Pussycat Bar Kalckreuthstr 7 10777 Berlin
BERLINCIGARMEN
Biggest monthly **GAY CIGAR SOCIAL** in Europe! BLUF Members are very welcome, no dresscode **Cigars on sale at location** More info https://male.space/en/project/berlincigarmen/
Pussycat Bar Kalckreuthstr 7 10777 Berlin
BERLINCIGARMEN
Biggest monthly **GAY CIGAR SOCIAL** in Europe! BLUF Members are very welcome, no dresscode **Cigars on sale at location** More info https://male.space/en/project/berlincigarmen/
Pussycat Bar Kalckreuthstr 7 10777 Berlin
In this city
Click to search BLUF for bars, clubs, photographers or shops in this city
Other cities
See what BLUF Local is doing in these other cities: