Weather today
Light breeze, scattered clouds, scattered clouds
Day: 31.5°C
Evening: 29.5°C
Night: 25.4°C
Humidity: 41%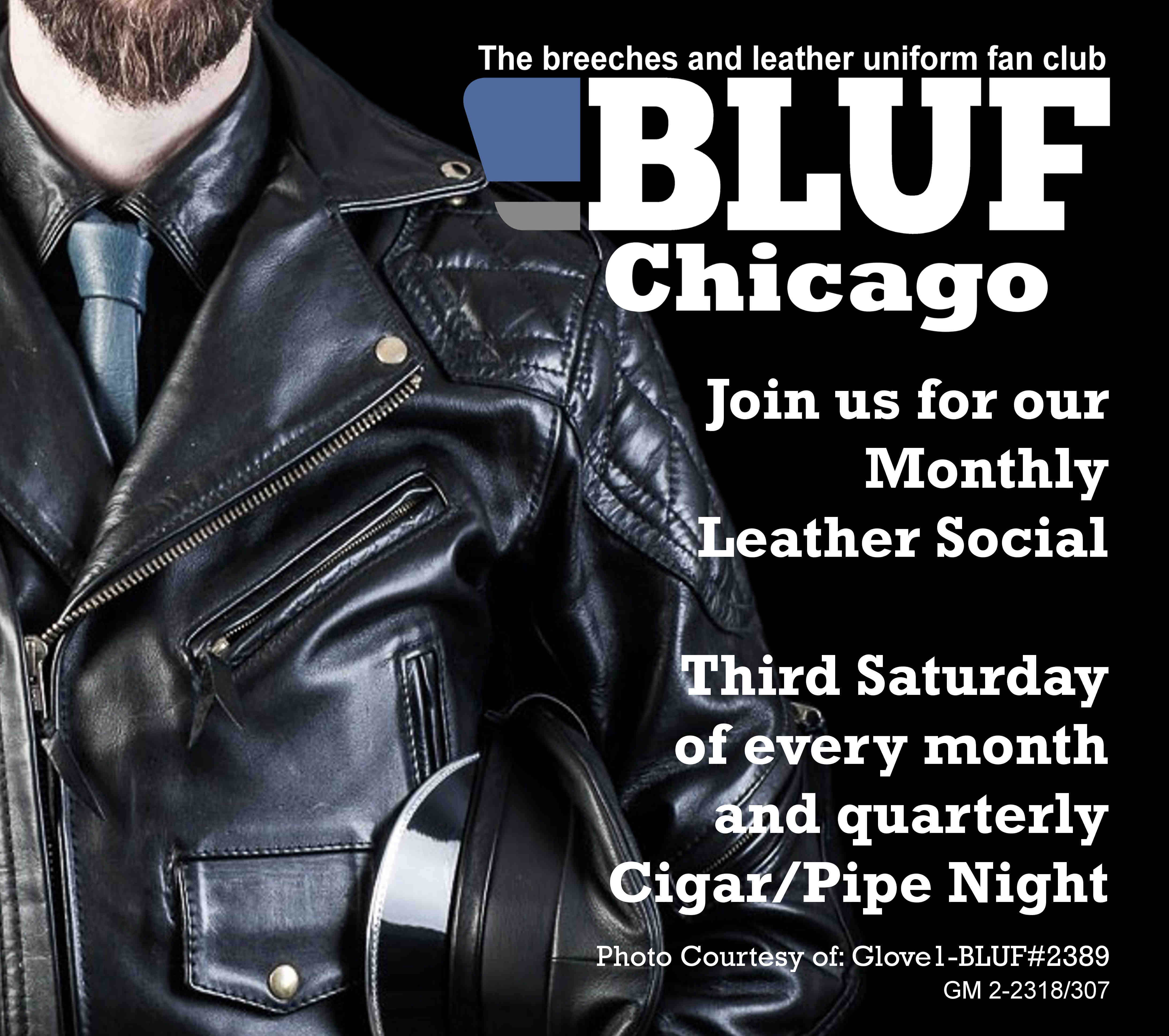 Events
Chicago July Leather Social
Join us for the monthly BLUF dress code social. We're hosting GEAR and hope to see you at @ToucheChicago in your Breeches, Leather Uniforms, or Fabric Uniforms. It all begins at 10pm. A boot black and barber will be on duty. More info: Michael, aka chgogearman (307), elcuero (1864)
Touche, 6412 N. Clark Street, Chicago, USA
BLUFChicago July Dinner
The BLUF dinner at IML was a lot of fun - so we thought we'd do it again. We're planning on dinner in BLUF gear at Fireside restaurant on Saturday (7/20/19) before our bar night at Touche. Reservation is set for 8 pm. Fireside restaurant is at 5739 N Ravenswood in Edgewater and offers standard American food fare. Everything from steaks to burgers. The menu is here: https://firesidechicago.com/menu-4/ Please drop a reply if you're able to join us so that we can make resevations for the group at: dinner@blufchicago.com with the subject: July dinner RSVP It should fun! Reply back ASAP but no later than 5pm on Friday 7/19/19!
Fireside Restaurant & Lounge 5739 N Ravenswood Ave. Chicago Il 60660, USA
38th annual Northalsted Market Days
Saturday 10 August -> 11 Sunday Aug 19
Northalsted Market Days® is the largest street festival in the Midwest and Chicago's hottest summer celebration. More details to follow as we get closer to this event. Michael, aka chgogearman (307)
North Halsted Street between Belmont and Addison Avenues. The heart of "Boys Town"
Chicago August Leather Social
Join us for the monthly BLUF dress code social. We're hosting GEAR and hope to see you at @ToucheChicago in your Breeches, Leather Uniforms, or Fabric Uniforms. It all begins at 10pm. A boot black and barber will be on duty. More info: Michael, aka chgogearman (307), elcuero (1864)
Touche, 6412 N. Clark Street, Chicago, USA
Chicago September Leather Social
Join us for the monthly BLUF dress code social. We're hosting GEAR and hope to see you at @ToucheChicago in your Breeches, Leather Uniforms, or Fabric Uniforms. It all begins at 10pm. A boot black and barber will be on duty. More info: Michael, aka chgogearman (307), elcuero (1864)
Touche, 6412 N. Clark Street, Chicago, USA
Chicago October Leather Social
Join us for the monthly BLUF dress code social. We're hosting GEAR and hope to see you at @ToucheChicago in your Breeches, Leather Uniforms, or Fabric Uniforms. It all begins at 10pm. A boot black and barber will be on duty. More info: Michael, aka chgogearman (307), elcuero (1864)
Touche, 6412 N. Clark Street, Chicago, USA
Chicago November Leather Social
Join us for the monthly BLUF dress code social. We're hosting GEAR and hope to see you at @ToucheChicago in your Breeches, Leather Uniforms, or Fabric Uniforms. It all begins at 10pm. A boot black and barber will be on duty. More info: Michael, aka chgogearman (307), elcuero (1864)
Touche, 6412 N. Clark Street, Chicago, USA
Chicago December Leather Social
Join us for the monthly BLUF dress code social. We're hosting GEAR and hope to see you at @ToucheChicago in your Breeches, Leather Uniforms, or Fabric Uniforms. It all begins at 10pm. A boot black and barber will be on duty. More info: Michael, aka chgogearman (307), elcuero (1864)
Touche, 6412 N. Clark Street, Chicago, USA
Chicago January Leather Social
Join us for the monthly BLUF dress code social. We're hosting GEAR and hope to see you at @ToucheChicago in your Breeches, Leather Uniforms, or Fabric Uniforms. It all begins at 10pm. A boot black and barber will be on duty. More info: Michael, aka chgogearman (307), elcuero (1864)
Touche, 6412 N. Clark Street, Chicago, USA
Chicago February Leather Social
Join us for the monthly BLUF dress code social. We're hosting GEAR and hope to see you at @ToucheChicago in your Breeches, Leather Uniforms, or Fabric Uniforms. It all begins at 10pm. A boot black and barber will be on duty. More info: Michael, aka chgogearman (307), elcuero (1864)
Touche, 6412 N. Clark Street, Chicago, USA
Chicago March Leather Social
Join us for the monthly BLUF dress code social. We're hosting GEAR and hope to see you at @ToucheChicago in your Breeches, Leather Uniforms, or Fabric Uniforms. It all begins at 10pm. A boot black and barber will be on duty. More info: Michael, aka chgogearman (307), elcuero (1864)
Touche, 6412 N. Clark Street, Chicago, USA
In this city
Click to search BLUF for bars, clubs, photographers or shops in this city
Other cities
See what BLUF Local is doing in these other cities: