News from BLUF Local: Chicago
Silent Auction
Join BLUF Chicago for the 4th Annual Pre-IML Silent Auction. Saturday, March 18th, 10 pm at Touché. Este sábado, 18 de marzo, a las 10 pm en Touché. Featured items include: IML Package, Full Kit Gear Gift Certificates, Uniforms, and more.
Categories: BLUF offers
Tuesday 14 March, Michael, aka chgogearman (307). Updated 14 Mar, 23:30 by Michael, aka chgogearman (307)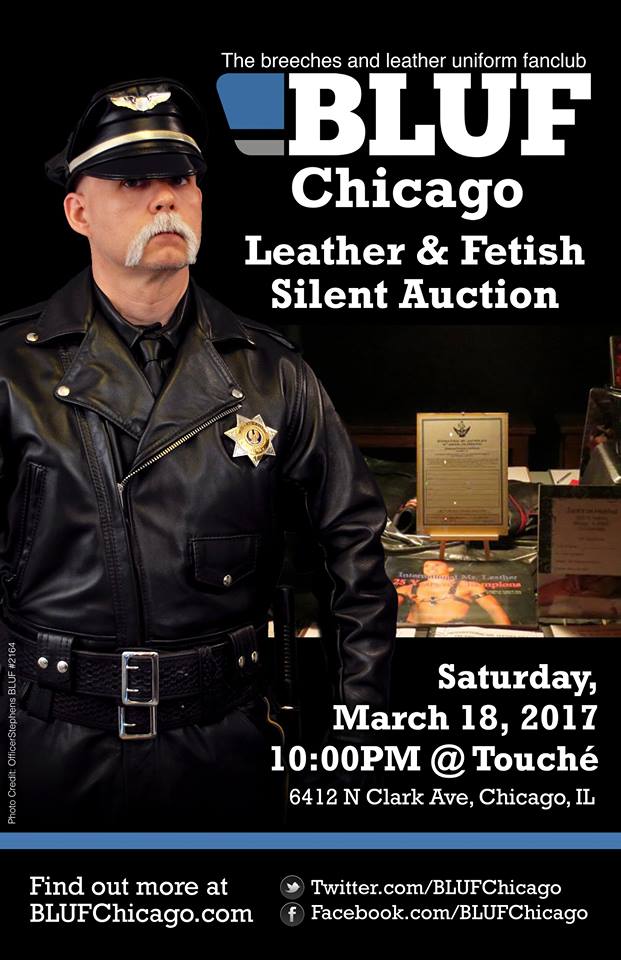 BLUF Blog: Chicago
BLUF in Chicago Pride 2014
BLUFChicago marched in Chicago's 45th annual Pride Parade. More than one million spectators attended.
BLUFChicago marchó en 45o desfile anual del orgullo de Chicago. Más de un millón de espectadores asistieron.
BLUFChicago marchait en 45e annuel défilé de la fierté de Chicago. Plus d'un million
…
Published 04 Jul 2014 • Read more
Weather today
Gentle Breeze, few clouds, light rain
Day: 7.7°C
Evening: 7.7°C
Night: 5.2°C
Humidity: 0%
Events
BLUF Chicago Social
We are proud to be hosting Gear Night. Wear your BLUF Dresscode leather, other uniforms, gear and join us for our BLUF social at Touché Chicago beginning at 10pm. Remember the Club room is Dresscode only for this event. There will also be a barber and bootblack on duty. We will be meeting in the Club Room for our monthly get-together. More info: Michael, aka chgogearman (307), elcuero (1864)
Touche, 6412 N. Clark Street, Chicago, USA
International Mr Leather 2017
Thursday 25 May -> 29 Monday May 17
International Mr Leather returns to Chicago, with a longer event starting a day earlier than usual. Contestants from around the world will be competing for the titles of International Mr Leather and International Mr Bootblack.
Congress Plaza Hotel, 520 South Michigan Avenue, Chicago, IL 60605, USA
In this city
Click to search BLUF for bars, clubs, photographers or shops in this city
Other cities
See what BLUF Local is doing in these other cities: