Amsterdam
Amsterdam has for many years been one of the principal cities for BLUF events in Europe, and it's where many of BLUF's major milestones have been celebrated, including our 6th and 15th birthdays, the launch of the current BLUF site, and more. Parties are held regularly, including during Fetish Pride and Leather Pride. Current organisers are Joffry, aka wescobootcop (2252) and Ton, Peter, Marc, Willem.
www.facebook.com/BLUFAmsterdamNetherlands/
More
Bristol
BLUF in Bristol has been very successful in the last few years, starting from a social organised alongside the established GEAR fetish night, and growing to host regular BLUF events at The Den. Some of the BLUF Bristol team are also heavily involved with LeatherWest, a community group aiming to promote leather in the west of England and Wales, through events such as UNION. Members can get more information from BristolUniform (87), Oswin #12 and Black Arrow (3204), or click Join to stay in touch.
More
Chicago
Information about events for BLUF men in the Chicago area, from Michael, aka chgogearman (307), elcuero (1864) and NMX90 (23). Regular meetings are held at Touche, once a month, along with events in association with other groups in the Chicago area. BLUF Chicago has its own page on Facebook and a web site.
More
DC
The Breeches and Leather Uniform Fanclub of DC is brought to you by DC Leather Pride, a non-profit organization that organizes events throughout the year to bring the leather community of the nation's capital together. BLUF:DC events will occur quarterly. DC Leather Pride also organize happy hour invasions and other events. DC Leather Pride recently won with their entry in the annual Scarlet's Bake Sale. For more info, contact Miguel, aka Miguel DC (3352)
More
London
Information about London specific events, from Nigel, aka LondonSubNigel (3) and Master Thomas (33). Most BLUF London events take place at The Backstreet in Mile End, but many members also regularly attend the London Leather Social and meetings of London Leathermen. We also organise a presence at the London Pride Parade.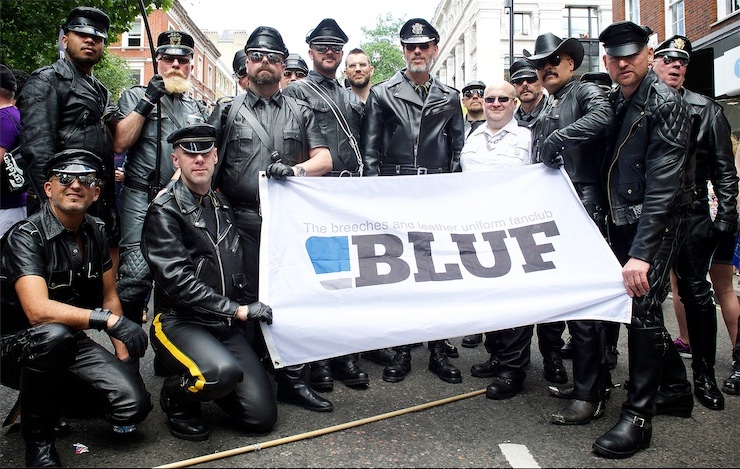 BLUF at Pride 2015
Backstreet planning update
On Thursday 17th August, the proposal to redevelop The Backstreet site came up again. If you've not been following it, you can read about the current proposal here. Essentially, the plans are as before, but with the addition of a new space in the basement for The Backstreet.
That means that, to an extent, the club should be safe whichever way the meeting went - if the proposal was thrown out, the club stays where it is, and if it was passed, then it would stay where it is for at least a year, close for a period, and then re-open in the new basement.
So, we didn't ask people to formally object this time round, however I registered to speak in opposition at the meeting, specifically to ensure that some concerns could be raised about ensuring that the re-provision did go ahead. The developer's representative agreed that there would be no problem with a binding term regarding the club being included in the heads of terms - the legal document between council and developer - which is good news. It allays the main concern some people have expressed, that promising to rebuild is just a way to get people to stop objecting, rather than a firm commitment. Effectively, I don't think we can get a firmer promise than this.
As it turned out, the meeting rejected the plans, largely for the same reasons as before. It's worth noting that everyone who spoke, both for and against, appears to be very keen to preserve the club. While its loss is no longer a grounds for refusing the application, however, there were concerns expressed about the mixed use of the building.
Essentially, some of the councillors are worried about a possible clash between the club as part of the "night time economy" and the residential properties above, and whether or not noise will cause complaints. There are some new guidelines called "Agent of change" rules about this sort of stuff, and it may be that more work has to be done to show that the application complies with them. Particular concern was expressed over the potential for noise at the end of the evening.
I this, I think, the councillors are slightly mistaken, because the nature of the club means that it doesn't really empty out like others, with everyone leaving around the same time, but there wasn't an opportunity to explain that at the meeting. The main concern here seemed to be, rather than not wanting the club, a worry that in the words of one councillor, it could be "setting the club up to fail."
So, this is something we'll have to think about if the plans come back to the committee in a modified form. Will that happen? It's hard to say at the moment. More likely is that the developer will appeal against the decision, and looking at the notes from the planning officers to the councillors, I'd say there's a good chance they'll succeed.
Once again, watch this space, to find out what happens next.
An additional report of the meeting can be found on the Meotra web site, and my annotated real-time tweets are here.
More
Madrid
Nueva creación de BLUF Madrid, aunque podéis informaros de otros eventos BLUF en el resto de España. La mayoría de los eventos de BLUF Madrid, se realizan en el club At Substation (C/Monserrat 30). Hemos empezado nuestro camino, esperemos que con la ayuda de todos, podamos crecer.

Aprovecharemos también que 2017 es el año de la Euro & World Pride Madrid, para estar presentes. Todos sois bienvenidos, cualquier sugerencia o información, Luis, aka alterCUERO (255)

New BLUF Local Madrid, but you can get some info about other BLUF events in the rest of Spain. Most BLUF Madrid events are held in the club At Substation (C / Monserrat 30). We have started our path, hopefully with the help of all, we can grow.

We will also organize our presence at the Euro & World Pride Madrid, so.... All are welcome.
Any suggestion or information, Luis, aka alterCUERO (255)
www.facebook.com/groups/BLUFSPAIN/
More
Manchester
BLUF Manchester events are organised in association with Manchester Leathermen and take place in the Manchester gay village, centred around Canal Street. Manchester Leathermen also organise a number of other leather orientated events. Information from Dave, aka 30holedms (1108) and Nick (608).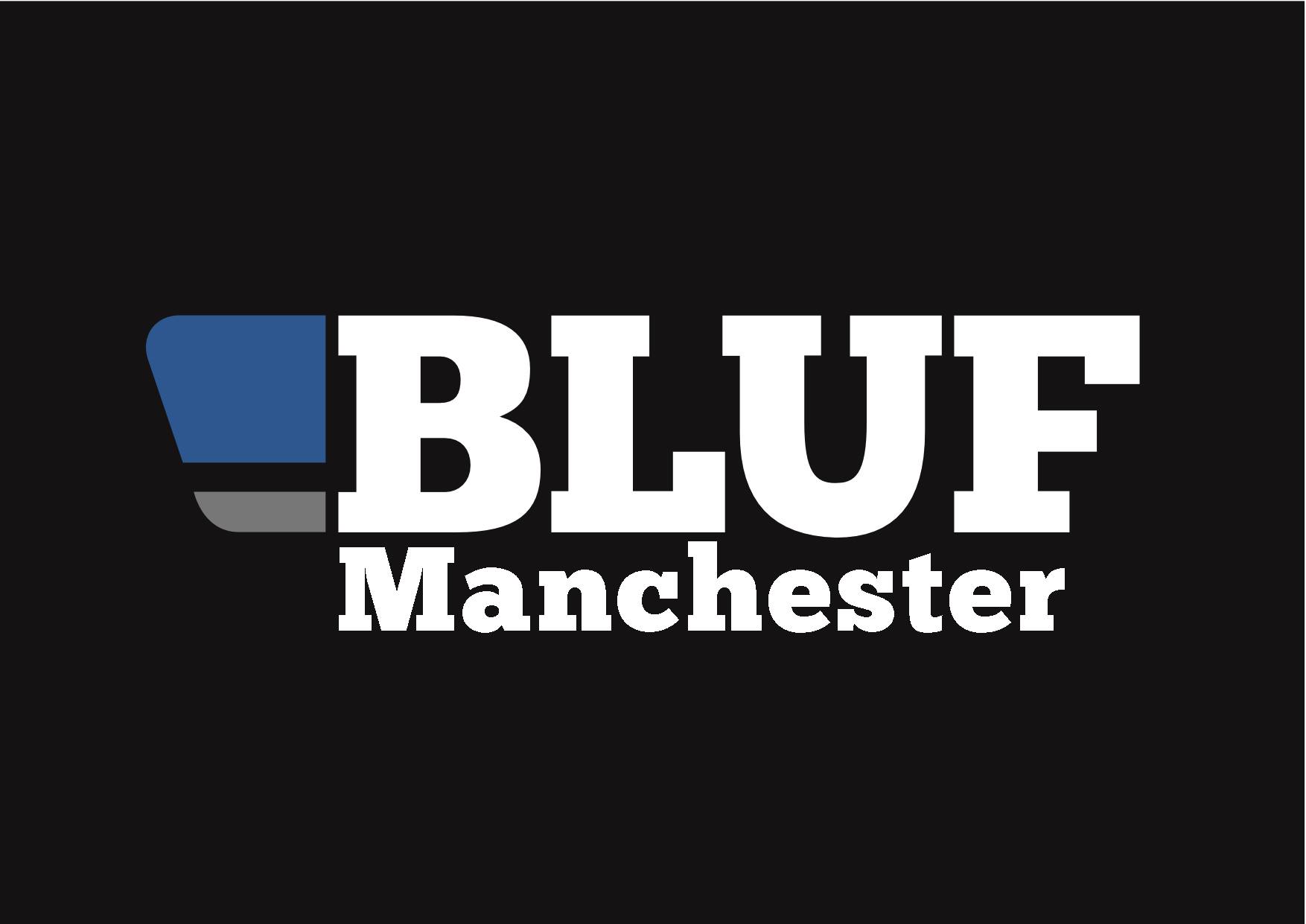 BLUF Manchester Bar Crawl
The details of the next BLUF Manchester event have now been announced: BLUF Manchester Bar Crawl
Due to a clash with the fetish week events in London we've decided to move this event by 1 week.
BLUF Manchester bring you the second event of 2017 the BLUF Manchester Bar Crawl starting at Company Bar @ 8pm, then moving on to Rem Bar and Eagle Bar.
We will be posting on Facebook Manchester Leathermen page so you can follow us and meet us along the way if your not able to get to company bar for 8pm
More
Montreal
Welcome to BLUF Montréal

BLUF originated in 1997 out of Montréal as an internet based organization. In recognition of its birthplace, a group of leather men are launching a Montréal Chapter in August 2016. The aim of the Montreal Chapter is to strengthen and grow the local leather scene via the organization of regular meetings and events for BLUF members and the leather community at large in a spirit of cooperation and friendship.

Members can get more information from LanglitzMontreal (3301) or Master Tyrant (1632) or click Join to stay in touch.

Bienvenue à  BLUF Montréal

BLUF a commencé comme club sur internet en 1997 depuis Montréal. C'est dans le respect de la reconnaissance de l'origine, que plusieurs gars de cuir lancent en août 2016 BLUF Montréal. Le but du chapitre BLUF de Montréal est de valoriser la scene de cuir en organisant réguliérement des rencontres ou événements entre eux dans un esprit de collaboration et d'amitié.

Les membres peuvent obtenir de l'information en communiquant avec LanglitzMontreal (3301) ou Master Tyrant (1632) ou en cliquant "Joindre" pour rester en contact.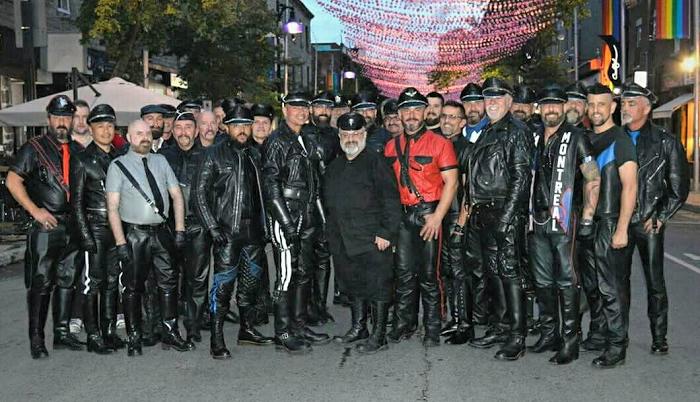 More
Munich
Information about Munich specific events, from Polarwolf (810). Most BLUF Munich events take place at Underground - hosted by the leather and fetish club MLC. BLUF Munich has its ownpage on Facebook.
We also are presence at the Munich Pride Parade within the MLC.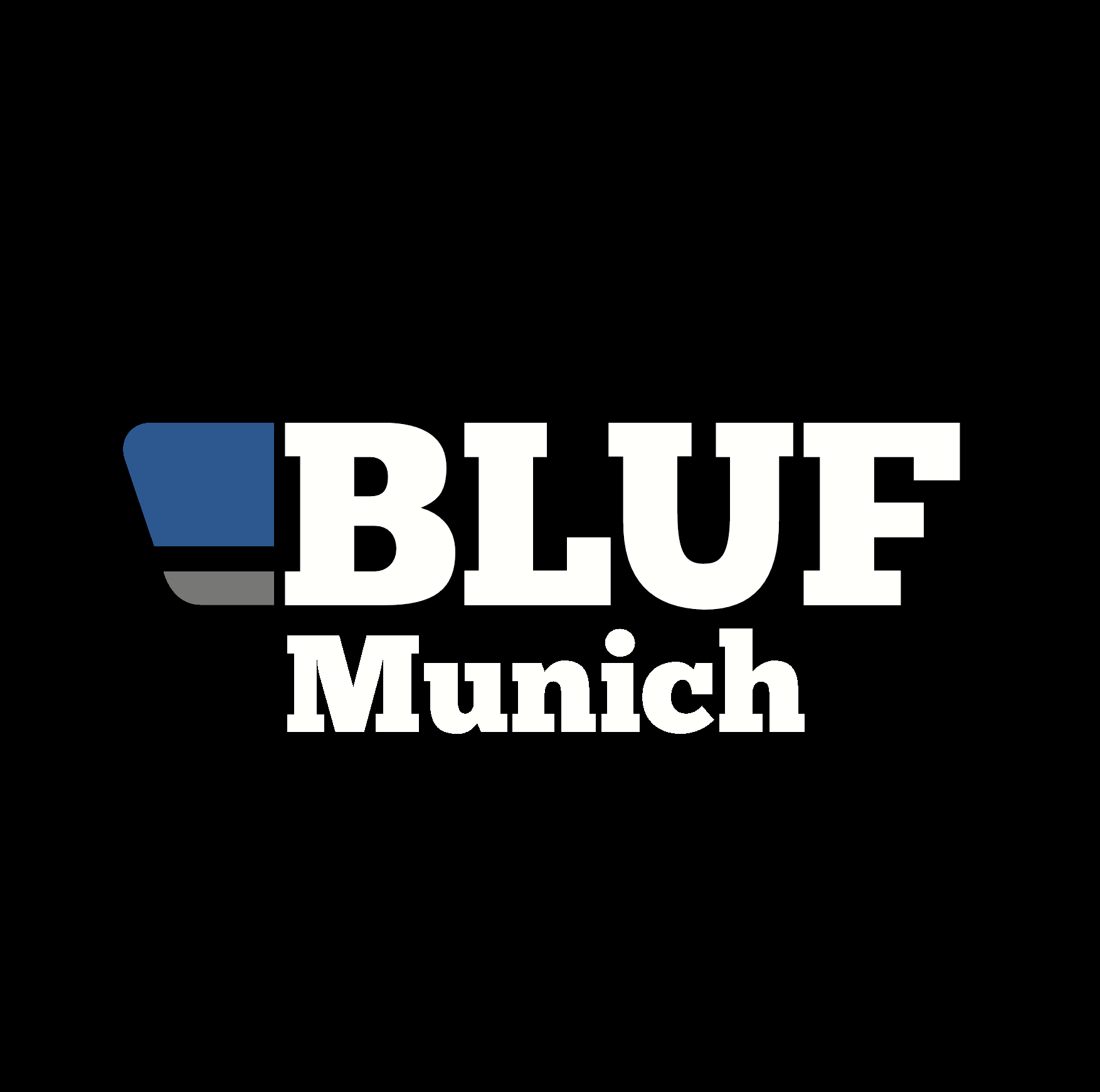 More
New York
Are you a BLUF member in New York? If you fancy stepping up and maintaining this page - or even trying to get people out in gear in the city - please contact Nigel, aka LondonSubNigel (3)
NRW
In Nordrhein- Westfalen mit seinen zahlreichen Großstädten leben ca. 200 BLUF Mitglieder. Schwerpunkte sind Köln und das Ruhrgebiet.
BLUF Events gibt es regelmässig im Essener Drexx Club (organisiert von Klaus, aka SmartLeather (212)) und in Köln, Station2be, (von cgn-leather (183)). Weitere Aktivitäten, auch in anderen Städten, sind jederzeit willkommen.

NRW (North Rhine- Westfalia) is the most densely populated urban area in Germany, including cities like Cologne, Essen, Düsseldorf, Dortmund, and only a short drive from cities like Amsterdam, Brussels or Antwerp. Around 200 BLUF members are living here. BLUF events are held regularly in Essen, drexx club (organized by Klaus, aka SmartLeather (212)) and Cologne, Station2be (by cgn-leather (183)). Other activities are always welcome.
Paris
Suite à  l'initiative de Bearpaname (44), Copboots (1915) et Dark_Leather (264), la communauté française BLUF se donne rendez-vous à  Paris. En 2017, il est prévu de proposer trois temps forts en Mars, Mai et Octobre. Habituellement les apéritifs ont lieu à La Mine, les soirées au Mensch et les repas au Gai Moulin.
Tout membre souhaitant prendre part à l'animation de la scène BLUF française est le bienvenu ;-)

Further to the initiative of Bearpaname (44), Copboots (1915) and Dark_Leather (264), the French BLUF community makes an appointment in Paris. In 2017, it's planned to propose three highlights in Mars, May and October. Usually, aperitifs take place in La Mine, BLUF parties in Mensch and Dinners in Gai Moulin. Any member wishing to take part in the animation of the French BLUF scene is welcome ;-)
Comptes rendus Weekend BLUF Paris

Revivez les meilleurs moments et photos depuis 2014 de BLUF Paris avec les liens ci-dessous :

♦ 2014 :
- BLUF Paris, May 2014
- BLUF Paris, September 2014

♦ 2015 :
- BLUF Paris, March 2015
- BLUF Paris, May 2015
- BLUF Paris, October 2015

♦ 2016 :
- BLUF Paris, March 2016
- BLUF Paris, May 2016
- BLUF Paris, October 2016

♦ 2017 :
- BLUF Paris, March 2017
- BLUF Paris, May 2017
--
La Team BLUF Paris : Bearpaname (44), Copboots (1915) et Dark_Leather (264).
 
More
San Francisco
BLUF events in San Francisco are organised by Lexx (3656) and Larry Kenney aka HotBootsSF (26), and include an annual dinner before Dore Alley, usually one of the busiest events of the year, plus some events in association with other groups, and bar nights.
More
SoCal
In Southern California, BLUF is most active in Los Angeles, where LEATHERGEARED (190) hosts a monthly gathering at The Eagle on the second Friday of every month. Other events take place in San Diego and Palm Springs, particularly during and around the Desert Leather Pride event.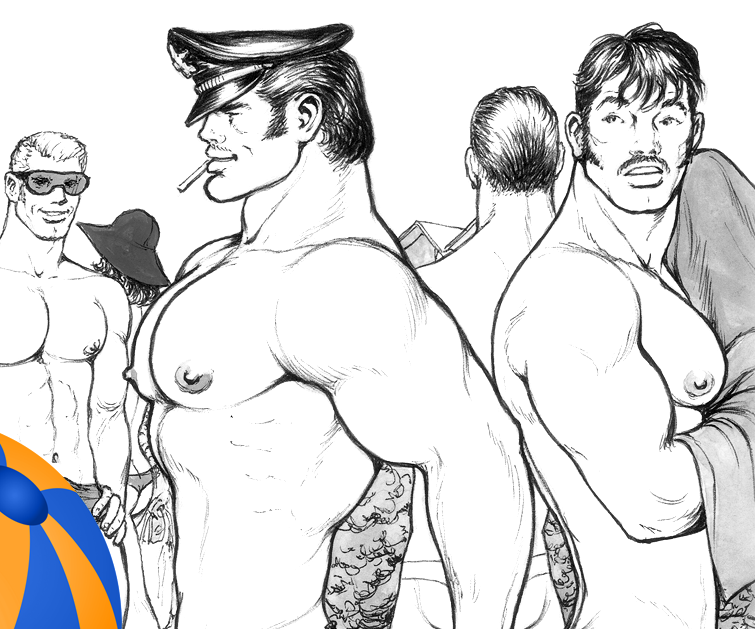 Summer Leathers
More